Gifts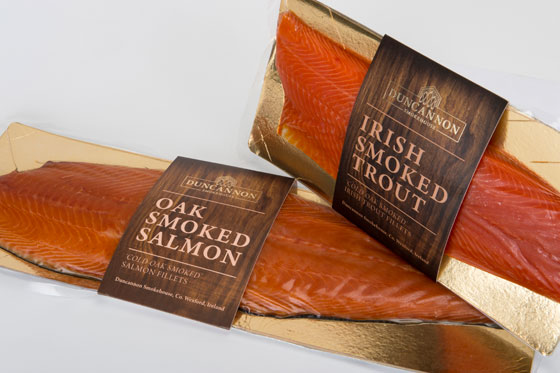 Gifts for Friends & Family
Sustainable Oak Smoked Salmon and Cold Smoked Trout make perfect gifts. What more could anyone want than to share a side of Smoked Salmon or Trout with friends and family during the Christmas season or on a special day – perfect! Buy it for yourself to bring along to a party or celebration or you can choose to have it delivered from us directly to your recipient with a gift card and message from you.
Gifts for Colleagues & Corporate Gifts
Sides of Sustainable, Wild or Organic Salmon and Trout can also make an excellent gift for corporate clients and colleagues. Again, we can deliver directly for you to multiple addresses, or in bulk to you at one single address so that you can present the gifts yourself.
We provide national and international delivery by Fastway (in Ireland) and UPS internationally.
Place an order today for an Irish produced, traditional, prestigious, epicurean gift of Sustainable Oak Smoked Salmon and Cold Smoked Trout.
Duncannon Smokehouse produit du saumon fumé au Chêne et Truite fumée à froid au Chêne dans nos locaux dans le Comté de Wexford, sur la côte Sud-Est de l'Irlande depuis 1974. Notre gamme de produits comprend saumon bio, saumon d'élevage responsable et saumon sauvage. Nous fumons aussi de la truite bio et d'élevage responsable. Nous réalisons la fumaison à la main ce qui garantit une qualité optimale. Les colis sont livrés par le service de nuit UPS soit pour votre plaisir ou pour offrir. Passez une commande aujourd'hui pour un cadeau gourmand traditionnel et prestigieux de saumon et de truite fumés au Chêne produit en Irlande.
Product Listing:
- Sustainable Oak Smoked Salmon, 150g pack, 300g pack, 1kg side
- Organic Oak Smoked Irish Salmon, 1kg side
- Wild Oak Smoked Irish Salmon, 1kg side
- Sustainable Cold Smoked Irish Trout, 150g pack, 300g pack, 1kg side
- Organic Cold Smoked Irish Trout, 1kg side